Description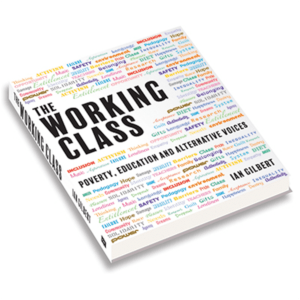 In 'The Working Class: Poverty, education and alternative voices', Ian Gilbert unites educators from across the UK and further afield to call on all those working in schools to adopt a more enlightened and empathetic approach to supporting children in challenging circumstances.
One of the most intractable problems in modern education is how to close the widening gap in attainment between the haves and the have-nots. Unfortunately, successive governments both in the UK and abroad have gone about solving it the wrong way.
Independent Thinking founder Ian Gilbert's increasing frustration with educational policies that favour no excuses and compliance , and that ignore the broader issues of poverty and inequality, is shared by many others across the sphere of education and this widespread disaffection has led to the assembly of a diverse cast of teachers, school leaders, academics and poets who unite in this book to challenge the status quo. Their thought-provoking commentary, ideas and impassioned anecdotal insights are presented in the form of essays, think pieces and poems that draw together a wealth of research on the issue and probe and discredit the current view on what is best for children from poorer socio-economic backgrounds. Exploring themes such as inclusion, aspiration, pedagogy and opportunity, the contributions collectively lift the veil of feigned equality of opportunity for all to reveal the bigger picture of poverty and to articulate the hidden truth that there is always another way.
This book is not about giving you all the answers, however. The contributors are not telling teachers or school leaders how to run their schools, their classroom or their relationships the field is too massive, too complex, too open to debate and to discussion to propose off-the-shelf solutions. Furthermore, the research referred to in this book is not presented in order to tell educators what to think, but rather to inform their own thinking and to challenge some of the dominant narratives about educating the feckless poor. This book is about helping educators to ask the right questions, and its starting question is quite simple: how can we approach the education of young people from disadvantaged backgrounds in a way that actually makes a difference for all concerned?
Written for policy makers and activists as well as school leaders and educators, 'The Working Class' is both a timely survey of the impact of current policies and an invaluable source of practical advice on what can be done to better support disadvantaged children in the school system.
Edited by Ian Gilbert with contributions from Nina Jackson, Tim Taylor, Dr Steven Watson, Rhythmical Mike, Dr Ceri Brown, Dr Brian Male, Julia Hancock, Paul Dix, Chris Kilkenny, Daryn Egan-Simon, Paul Bateson, Sarah Pavey, Dr Matthew McFall, Jamie Thrasivoulou, Hywel Roberts, Dr Kevin Ming, Leah Stewart, (Real) David Cameron, Sir Al Aynsley-Green, Shona Crichton, Floyd Woodrow, Jonathan Lear, Dr Debra Kidd, Will Ryan, Andrew Morrish, Phil Beadle, Jaz Ampaw-Farr, Darren Chetty, Sameena Choudry, Tait Coles, Professor Terry Wrigley, Brian Walton, Dave Whitaker, Gill Kelly, Roy Leighton, Jane Hewitt, Jarlath O Brien, Crista Hazell, Louise Riley, Mark Creasy, Martin Illingworth, Ian Loynd, David Rogers, Professor Mick Waters and Professor Paul Clarke